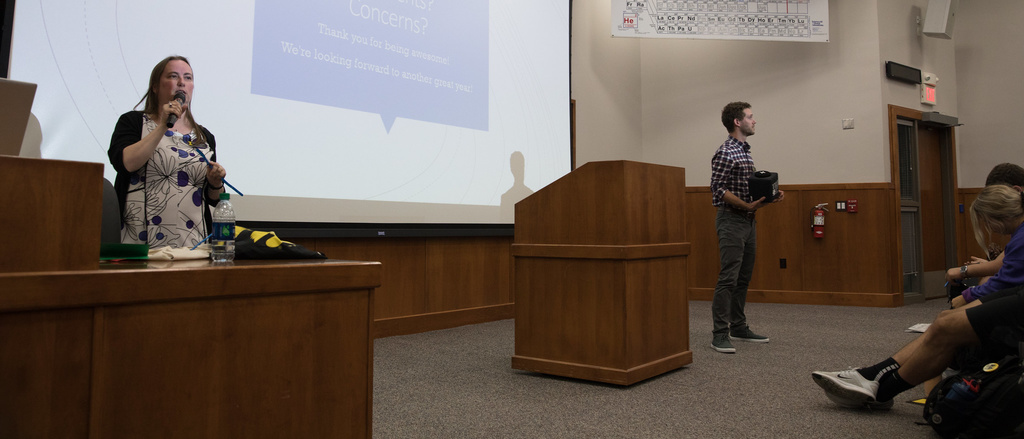 We are available to design and implement presentations, programs, or workshops on a wide variety of mental health topics for students, faculty, and staff.
UCS staff members are also trained as consultants to work with groups to identify and work toward more effective personal, interpersonal, and organizational functioning. Let us know how we can help!
Let us design a study skills workshop, team-building program, stress management presentation, or one of the below programs, for you, your academic class, or your student group by filling out a request form to schedule a consultation or workshop today.
How to schedule a presentation:
Submit the online request form (below) at least three weeks in advance.
After receiving the online form, a staff member will contact you to discuss the activity.
Programs are preferred to be conducted Monday-Friday between 8:00 AM - 8:00 PM.
A separate form must be completed for each date you wish to host a program topic.
If you have not received a response within 7 days from the date your request, please contact our office.
UCS program offerings include:
Motivation and goal setting
Tips for students for managing ADHD
Test anxiety management
Time management
Assertive communication strategies
Communication skills for:

classmates/coworkers
couples/partners
family members
friends
roommates

Dealing with difficult people
Leadership styles and skills
Listening skills
Managing public speaking anxiety
Social skills training
Body and size diversity
Dealing with racism on and off campus
Gender issues
Gay, Lesbian, Bisexual, Transgender issues
International student concerns
Learning disability/attention deficit disorder support strategies
Men's issues
Racial/Ethnic identity development
Re-entry adaptation
Spiritual/Religious Identity Development
Succeeding in a predominantly White university
White privilege
Women's issues
Adjusting to college
Anger Management
Anxiety management
Body image
Care for the caregiver
Depression management
Eating disorders
Goal setting
Grief and loss issues
Homesickness
Pain management/chronic illness
Self-care
Self-esteem
Stress management
Transitions
Building interpersonal relationships
Violence in intimate relationships
Going home for holidays and visits
Helping a friend in distress
How to end a relationship
Introduction to interpersonal skills
Long-distance relationships
Managing social anxiety